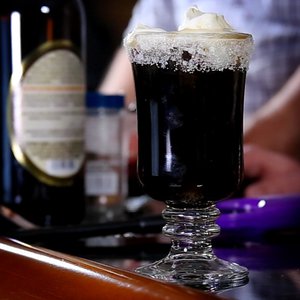 ×
How To Make The Spanish Coffee
Rim mug with a thick later of sugar using lime juice or water to stick sugar to the rim (inside and out.) Once the sugar is stuck and slightly solidified add 151 to your mug along side orange liqueur / triple sec.

Now, light your liquid on fire and tip your mug carefully so it begins to caramelize the sugars along the inside of the rim. Continue to roll along the sides so the flame licks the sugar rim and warms it.

Add a few dashes of nutmeg (so it lights up and sparks). Add kahlua, which will put out the fire (or, put it out on your own if it doesn't go out.) Then top with coffee. Float whipped cream on top.
---
Warm dark roast coffee with a balanced sweetness and a punch of ethanol on the tongue.
---